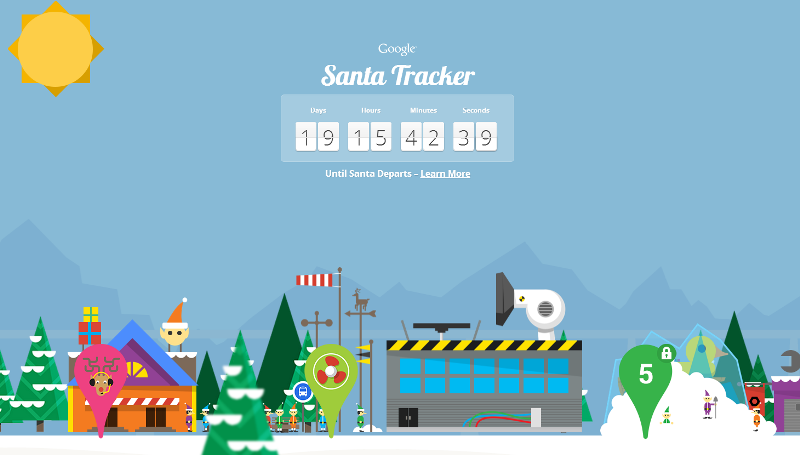 The Surprisingly Easy App of the Week: The Santa Tracker Special
In 6 days time, a certain white-bearded jolly fellow will be suiting up, jumping on a sleigh and flying around the world delivering presents. Ho, ho and, indeed, ho.
There was a time when Father Christmas's annual adventure around the world was shrouded in mystery: where did he go first? How did he get from one country to the next? Which country took him longest to cover?
Now, thanks to the wonders of technology, we have answers to all of those questions. This year, there are two Santa tracking apps vying for our attention, and in this very special Christmas edition of our weekly Surprisingly Easy app guides, we're going to be looking at them both.
---
Norad Tracks Santa

What is it?
NORAD Tracks Santa is the official app of the NORAD (or North American Aerospace Defense Command, to give its full name) Tracks Santa program.
NORAD is the leading name when it comes to Santa tracking. The organisation first started following Father Christmas in 1955, after a department store accidently listed NORAD's number as Santa's. They've got the technology too, using military satellites, radars, fighter jets (we're not sure why) and Santa cams to keep an eye on St. Nick.
---
Why is it good?
The Santa Tracker itself is the big selling point, allowing you to follow Santa via the wonders of Bing Maps. Yes, Bing Maps; the tracker has been built in conjunction with Microsoft. NORAD previously teamed with Google on their Santa Tracker but have since switched allegiance to Microsoft, hence the big Santa Tracker war this year.
Along with your tracker, you get a countdown to Santa's launch time, which is quite exciting. You also get a fun game called 'Thin Ice' and lots of interesting information about NORAD and the work it does.
---
The downsides
According to reviews, it stopped working on Christmas Eve last year, which obviously isn't great when the entire purpose of your app is to work on Christmas Eve. It did get fixed in time, though, and we can only presume that NORAD has learnt their lesson (or they will have if the developers don't want to end up getting coal in their stockings this Christmas…)
Download NORAD Santa Tracker on iOS | Download NORAD Tracks Santa on Android | Download NORAD Santa Tracker on Windows Phone
---
Google Santa Tracker
What is it?
Google's attempt to track Santa as he travels the world, this time using Google maps.
---
Why is it good?
The app has been made to look like Santa's village, with various videos, games and educational pieces to unlock every day until the big day. Among the goodies are a language lesson and a coding project (!).
Its Santa-tracking options are pretty great too. Not only can you watch St. Nick's journey on your phone and tablet, but you can also stream it to your TV using a Chromecast dongle (if you've got one). You can also choose to send a call from Santa to a friend or family member.
---
The downsides
It's only available on Android!
Download Google Santa Tracker on Android
---
Has an app made your Christmas surprisingly easy? Share it with us in the comments.
And if your gadgets start piling up after Christmas, don't forget that you can declutter using our very own surprisingly easy app – just click here to learn more about the musicMagpie app!