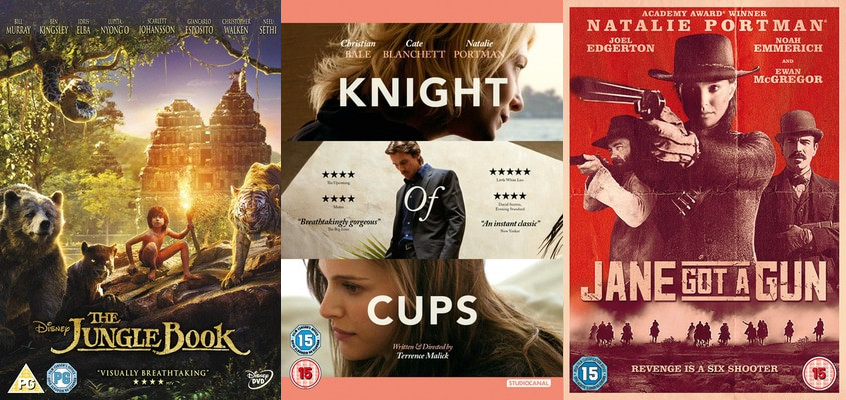 This week's new DVD releases: WWE, The Jungle Book and more!
WWE: Money in the Bank 2016
This year's Money in the Bank pay-per-view event saw Seth Rollins take on Roman Reigns for the WWE World Heavyweight Championship, while Dean Ambrose, Alberto Del Rio, Cesaro, Chris Jericho, Kevin Owens and Sami Zayn duked it out in the centrepiece Money in the Bank Ladder Match for a shot at the world title.
Other matches from the show include:
A Fatal 4 Way Tag Team Championship match between The New Day, Karl Anderson and Luke Gallows, Enzo and Cass and the Vaudevillians.
Baron Corbin vs Dolph Ziggler
Charlotte and Dana Brooke vs. Natalya and Becky Lynch.
Apollo Crews vs. Sheamus
AJ Styles vs. John Cena
Rusev vs. Titus O'Neil for the United States Championship
Buy WWE: Money in the Bank on DVD
Buy WWE: Money in the Bank on Blu-Ray
If you love wrestling, check out our huge range of WWE DVDs and Blu-Rays now!
---
The Jungle Book
The beloved Rudyard Kipling book (and super swinging 60s Disney animation) gets a big budget live action remake courtesy of Iron Man director Jon Favreau. Newcomer Neel Sethi plays Mowgli, while the scarily realistic CGI animals are brought to life by Bill Murray as Baloo, Scarlet Johansson as Kaa and Idris Elba as Shere Khan. In an inspired piece of casting, Christopher Walken voices King Louie.
Buy The Jungle Book on Blu-Ray
---
Knight of Cups
Christian Bale plays a screenwriter struggling with the meaning of life after splitting from his wife and delving headlong into partying and flings. Terrence Malick, the brilliant mind behind Days of Heaven and The Tree of Life, directs this hefty drama.
---
Jane Got A Gun
Natalie Portman stars in this modern Western, which follows a couple on the run from a group of bandits (led by Ewan McGregor). In dire straits, Portman's Jane turns to her old flame Dan (Joel Edgerton) to help the pair survive.
---
Take Down
Jeremy Sumpter, Phoebe Tonkin, Sebastian Koch and Ashley Walters star in this action thriller, in which a group of rich kids sent to a boot camp end up having to use their new skills against a group of criminals who've taken them hostage.
---
Tank 432
A group of mercenaries come under fire and are forced to hide out in an abandoned Bulldog tank. They then discover that one of them may be working for their enemy… Ben Wheatley, the director behind Kill List and High Rise, executive produced this British thriller.
---
The Empire of Corpses
Set in an alternative version of Victorian London where resurrecting corpses and putting them to work is normal, The Empire of Corpses is an anime with a difference. It follows medical student John H. Watson, who is caught illegally reanimating a body and subsequently recruited by the Government to find the research notes of a scientific genius by the name of Frankenstein…
Buy The Empire of Corpses on DVD
---
Blaze and the Monster Machines: High Speed Adventures
This collection of cartoons follows monster truck Blaze (voiced by Nolan North AKA Nathan Drake from Uncharted) and his 8 year old driver AJ on a series of adventures involving stunts, science and maths. It's a fun-yet-educational cartoon perfect for the final weeks of the summer holidays!
Buy Blaze and the Monster Machines on DVD
---
Identicals
Identicals is set in a future where people can pay to be inserted into the lives of happier people. When his girlfriend is abducted by the company responsible for this service, Slater is forced to dig into the shadowy Brand New-U company and faces great danger along the way. Recommended for fans of dystopian sci-fi and Phillip K. Dick novels.
---
Hide & Seek
In this psychological drama, a group of young Londoners decide to move away from the big smoke and live in a cottage together, where they get naked a lot and generally live like hippies. However, the arrival of a 5th person threatens to ruin their new utopia.
---
Brooklyn Nine-Nine: Season 3
This boxset collects all 23 episodes of the award-winning comedy's third season, which follows Andy Samberg's immature but remarkably effective NYPD detective and his colleagues as they clean up the mean streets of Brooklyn.
Buy Brooklyn Nine-Nine Season 3 on DVD
---
The Colony
Emma Watson and Daniel Bruhl star as a couple caught in the middle of Chile's overthrow of President Salvador Allende. Daniel is then imprisoned by a cult colony. Watson's Lena joins the cult to try and save her lover and is horrified by the things she sees, and vows to expose the colony to the rest of the world… if they make it out alive.
---
Drone – DR1
Drone – DR1 is a post-apocalyptic sci-fi set after most of humanity is killed by a killer virus. A group of young survivors discover a drone that may hold the key to what caused the virus and a potential way to save the human race.
---
Lair of the Beast
As the title suggests, this horror follows a group of unfortunate explorers as they enter the lair of the mysterious Chupacabra, a creature with a taste for livestock and people…
---
As well as new releases, we've got 1000s more DVDs and Blu-Rays on the musicMagpie Store. From classics to modern blockbusters to cult TV shows, you're bound to find something you'll love for a great price – and you'll get FREE delivery too.
Check out our range and buy cheap Blu-Rays and DVDs by clicking below!