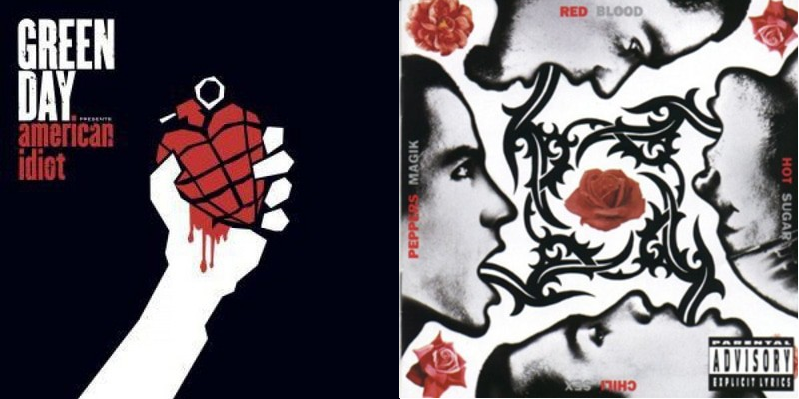 Vinyl Respin: American Idiot and Blood Sugar Sex Magik
Every week, we respin some of our favourite records, share a little bit about them and knock 10% off the price of them when you use the code RESPIN10 on the musicMagpie Store!
With America dominating the headlines at the moment, this week's Respin focuses on two iconic American rock records (one of which has nothing to do with the next resident of the White House, honest): American Idiot by Green Day and Blood Sugar Sex Magik by Red Hot Chili Peppers.
---

American Idiot – Green Day
Before American Idiot, Green Day were known as fun-loving goofs who could write some seriously catchy punk tunes. Unfortunately, their fun-loving punk was producing diminishing returns; Warning, their sixth album, flopped commercially despite the increasing popularity of pop punk.
Coupled with personal tensions in the band and tracks they'd written for their new record being stolen, things weren't looking great for Billie Jo and co. Fortunately, it was all a blessing in disguise.
Instead of searching for the stolen tracks, Green Day decided to focus their efforts on writing their most ambitious record to date. And ambitious is definitely the right word to describe American Idiot, a sprawling rock opera about a young man torn between rage and love (which are represented by two characters: St Jimmy, a rebellious punk rocker, and Whatsername, a motherly figure).
Green Day didn't just slap a narrative on top of a few pop punk riffs though. They reinvented their sound, drawing on influences as diverse as classic rock, musicals and hip-hop to produce some of the best songs of their career: Boulevard of Broken Dreams, Wake Me Up When September Ends, Jesus of Suburbia  – the list goes on.
American Idiot's politically-charged tracks drew the most attention, however. The title track is a catchy attack on Bush and the media, criticising both the Iraq War, the coverage of it and the average American's apathy, while Holiday takes aim at the Republican establishment and, again, the war on Iraq.
Both tracks captured the mood of America's younger generation, the kind of angst you can rock out to. The iconic cover, which depicts a hand holding a heart-shaped grenade, hammers home the album's revolutionary vibe too.
It's easy to dismiss American Idiot as a product of its time, but recent events have shown that political and societal outrage never go out of style. 13 years later, American Idiot is as relevant as ever.
If you want to give American Idiot a respin, use the code RESPIN10 to get 10% off the vinyl edition on the musicMagpie Store today!
---

Blood Sugar Sex Magik – Red Hot Chili Peppers
And now for something completely different. Although the Red Hot Chili Peppers are noted Bernie Sanders supporters, politics rarely makes its way into their feelgood funk rock.
In fact, at one point, pretty much anything serious was off limits for the Chilis. Then Blood Sugar Sex Magik came along.
The follow-up to their breakthrough album Mother's Milk, Blood Sugar Sex Magik saw the Chilis do away with some of their crazier elements – the heavy metal riffs, the furious slap bass lines – and focus more on melody.
The result is arguably the best record in their discography, bridging the gap between their earlier sound and the stadium rock choruses of their later albums. This is RHCP at their finest, and an ideal starting point for anyone wondering what all the fuss is about.
The music wasn't the only thing to mature during the Chilis seclusion in Harry Houdini's old mansion though. Anthony Kiedis, who was best known for his vulgar raps about girls and partying, turned his lyrical talents to relationships and his own struggles with drugs for songs like I Could Have Lied and Under the Bridge (both of which are among the Chili's most personal and powerful songs).
Of course, he didn't grow up entirely: songs like Apache Rose Peacock, Naked in the Rain and Sir Psycho Sexy wouldn't sound out of place on Bloodhound Gang album lyrically.
Kiedis' love for filthy lyrics cropped up on the album's biggest single too. Radio stations were initially reluctant to play Give It Away, although they cited the songs lack of melody rather than it's rather blunt innuendos. Eventually, LA station KROQ picked up on the track and the rest, as they say, is history.
Blood Sugar Sex Magik is a fine rock record, combining anthemic choruses with some fantastic grooves and beautiful melodies. We highly recommend giving it a respin (especially as you can get 10% off it right now)!
---
Both American Idiot and Blood Sugar Sex Magik are available on Vinyl from the musicMagpie Store right now, and we'll give you 10% off each if you use the code RESPIN10 – why wouldn't you?!
Please note: this offer ends at 9am on Thursday 26th January 2017. Don't miss out!