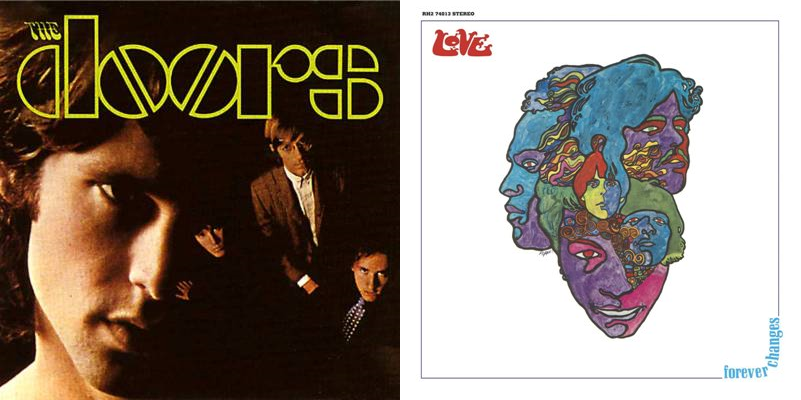 Vinyl Respin: Get 10% off The Doors and Forever Changes!
Each week, we respin a pair of classic records and offer you an amazing 10% off both of them. This week, we're going back to the Summer of Love with two classic records celebrating their 50th birthday this year: The Doors' self-titled debut and Love's Forever Changes.
In 1967, the hippie movement was at its height. Young people across the globe embraced free love, anti-consumerism and sticking it to the man by growing their hair, moving into communes and taking a lot of illicit drugs. In the US, so many people moved to San Francisco that it was dubbed the Summer of Love.
Music played a huge part in the movement, with the Monterey Pop Festival, The Beatles going full on psychedelic with Sgt Peppers and the Mamas and the Papas providing the movement's anthem with San Francisco (Be Sure to Wear Flowers in your Hair).
It wasn't all world peace and daisy chains though. In this week's vinyl respin, we're going to take a look at two of the year's darker psychedelic masterpieces: The Doorsand Forever Changes.You can get 10% off each of them right now with the code RESPIN10.
---

The Doors – The Doors
Whether you think Jim Morrison was a seminal poet or wrote like a sixth former after a few cans of Carling, it's impossible to deny the huge influence The Doors' debut has had on rock music.
Released at the very start of 1967, it takes many hallmarks of the hippy movement – the tripping out, the hunt for transcendence, the love – and presents them in a hard-edged blues and jazz-inspired freakout.
Light My Fire, the album's first hit single, is a good representation of the record as a whole. It's a mix of the traditional and the strange, starting off as a fairly standard ballad before segueing into a lengthy jazz-inspired organ and guitar solo jam.
The record too is a mix of the normal and the strange, mixing fairly straightforward rockers like Break on Throughand I Looked at You with trippy oddities like The Crystal Ship and The End, which remains possibly the only popular song to end with an extended rant about Oedipus. It even includes a cover of a Brecht song, Alabama Song (Whiskey Bar).
The stars of the show are undoubtedly Ray Manzarek and, yes, Jim Morrison. Manzarek's organ playing whirls throughout the entire record, sometimes providing an ominous psychedelic background and other times going front and centre for solos that sound like an acid trip in a church.
Morrison, meanwhile, is…well, Morrison. He croons and broods about sex, love and death, by turns menacing, enthralling and bewildering. His poetry is both profound and total nonsense, but he delivers it like he believes every word; The End's monologue is still one of the most passionate vocal performances ever recorded.
A lot of credit is due to guitarist Robbie Kreiger and drummer John Densmore too, though. Kreiger's guitar playing is subtle yet powerful, a strong counterpoint to Manzarek's organ lines, while Densmore's displays a talent for bossa nova (Break on Through), jazz (Light My Fire) and good old fashioned rock drumbeats.
All in all, The Doors is one of the most influential rock records of all time. Not bad for a few songs bashed out in a week.
---

Forever Changes – Love
Of course, it's impossible to talk about the hippie movement without discussing its bitter end, the idealism swallowed up by Vietnam, The Manson Family and countless drug addictions.
Forever Changes is the sound of those dark clouds on the horizon. Drawing on folk and psychedelic rock, the songs on Forever Changes are complex and beautiful. Most forego a traditional song structure, instead favouring the kind of movements you may find in classical music. The band also made extensive use of orchestral instruments, enveloping the songs with stirring melodies.
It was unlike anything that came before it. And so too were the lyrics; in the same year the Beatles declared All You Need is Love,  Arthur Lee was singing about being alone and watching people die on hills.
Forever Changes sounds like a record written by a band at its peak,  but that couldn't be further from the truth. After two mildly successful records, the group fell into a malaise and spent a lot of their time at Bela Lugosi's old mansion taking copious amounts of drugs.
Luckily, frontman Arthur Lee was feeling inspired… by his own death. He wrote Forever Changes as a monument to himself, a record for people to remember him by.
The rest of the band weren't so enthused, though. In fact, they were so demotivated that producer Bruce Botnick decided to hire four legendary session musicians – Billy Strange, Don Randi, Hal Blaine and Carole Kaye – to work with Lee on Andmoreagain and The Daily Planet. They finished both in three hours.
Upon realising they were easily replaceable, the rest of the band spurred into action and finished the 9 remaining tracks, writing themselves into music history.
Sadly, like a lot of classic records, Forever Changes wasn't appreciated in its time. It flopped in the US, although it hit #28 in the UK. Today, it's rightly recognised as one of the greatest records ever written and has inspired countless bands since.
---
You can get 10% off both of these classic records right now with the code RESPIN10. Simply click the links below and apply the code at the checkout!

Please note: this offer ends at 9am on Thursday 2nd February 2017.