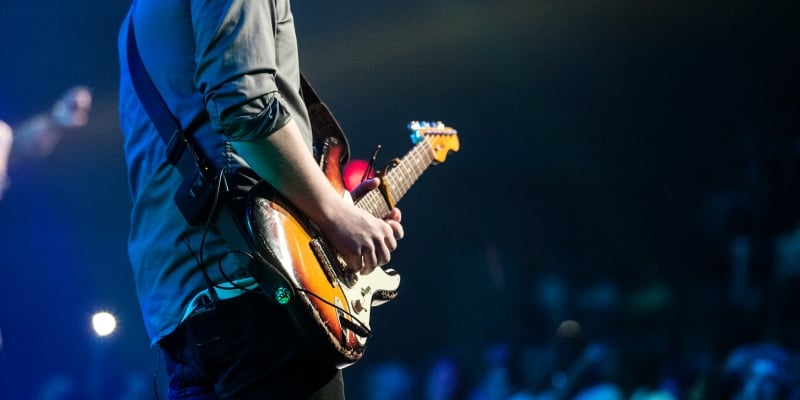 5 Up-And-Coming Bands To Catch Live This Year
There are loads of exciting artists coming out of the UK music scene at the moment, and most of them will undoubtedly be playing in a town near you at some point this year! Here are five bands you should definitely check out when they play your local venue.
---
BLACK HONEY
This ultra-aesthetic four piece are without doubt one of the most exciting bands on the road right now.
With only a few singles released since 2015, it's impressive that Black Honey have such a following. Their slick 60s vibe and head-spinning psychedelic rock sound has amassed great crowds as the band have been on tour, at both their live shows and at smaller festivals around the UK. Last year, Vogue Magazine even labeled lead singer Izzy Phillips as this generation's equivalent to Debbie Harry.
Their breakthrough track Madonna certainly hits these notes, and was definitely the highlight of their set when I managed to catch them on the stages of Truck Festival last summer. But it is Hello Today, their most recent grungy hit that has earned the band first place as my must-see act this year, before their last date in Leeds at the end of April. Released with a B-side Ghost that flaunts Lana Del Rey-esque feminine charm, the single is already out on CD and Vinyl.
---
BLAENAVON
A band I've only recently been introduced to, Blaenavon take their name from the Welsh town yet all three members hail from Hampshire.
Frank, Harris and Ben make some pretty blissful, guitar-heavy music and are still relatively under the radar. In recent years, they have toured as support for emerging names such as Sundara Karma, The Sherlocks and The Hunna.
Considering the little experience the guys have working and touring as a band, it's amazing how complete and considered their music feels. Unlike many bands dipping their toes into the alternative rock genre, the vocal is equally as skilled as the accompaniment. Blaenavon really are a step above the 'indie-rock boy band' label. A few favourite tracks, include Prague and Let's Pray, both combine brooding lyricism with relaxed guitar melody.
Buy Miss World by Blaenavon on vinyl
---
THE JAPANESE HOUSE
I'm sure by now everyone has heard of The 1975, but most are yet to discover a project that lead singer Matty used to produce: The Japanese House. Now the solo project of shoegazey singer Amber Bain, there are stylistic similarities but without all the neon and swagger.
Bain's minimal electronic pop truly deserves more attention than it currently seems to receive. Her music covers every mood, with slow and gentle tracks like Still for times when some relaxation is in desperate need, and perkier songs such as Face Like Thunder.
But if we are only ever allowed one favourite, it has to be Letter By The Water for its heart-melting chorus and sparkly electronic instrumental. In fact, any of the four tracks from their single Clean would be a perfect first listen.
I am yet to see The Japanese House live, but have made it my mission for 2017. You can read more about this beautifully underrated music project in my '8 Bands To Watch Out For in 2017′ post.
---
PALACE
Without a shadow of a doubt, Palace's album release in November last year was my musical highlight of 2016. So Long Forever is irresistibly easy to listen to and track on track never disappoints.
The London four-piece have stayed true to their laidback sound, which started getting them noticed back in 2014. At the time, they had just released their debut EP Lost In The Night, an album that could be described as almost hypnotic. A few standout songs from So Long Forever are Live Well, Bitter and Have Faith, each are confident, emotional and flow beautifully in with the album as a whole.
I can only imagine how special it would be to hear them live. Palace are taking their effervescent yet masterful music on a short UK tour over April this year, and are set to play some pretty big festivals, like Y Not, Truck Festival and Kendal Calling. Many of their singles, and both albums are available to purchase here, for anyone in need of some new blissfully chilled Sunday listening.
Buy So Long Forever by Palace on vinyl
---
VANT
Out of the five bands on this list, Vant are the name most likely to ring a bell. Formed in London, and fronted by lead singer and songwriter Matty Vant, this politically-expressive garage rock band have been receiving rave reviews from critics for the singles they have been releasing since 2015.
This year, the tracks will amount to a debut album, set to be released on the 17th of February. Titled Dumb Blood, the album has the potential to catapult the band straight to the forefront of British rock music. After getting great exposure supporting the genre's frontrunners Catfish and the Bottlemen, Royal Blood and even Biffy Clyro, Vant will no doubt see a successful year ahead.
If you are after a more intense live show than the other artists on this list, Vant are on tour from now until mid-April. To fans of Drenge, Darlia and good old-fashioned rock I recommend listening to their most popular track Do You Know Me?. The band have the killer combination of passion, presence and professionalism to take what they've got all the way. Before the new album is out, why not take a look at the back catalogue and get to know Vant?
Check out Vant's singles on the musicMagpie Store
---
Love music? You can find 1000s of CDs and Vinyl across all genres and at great prices on the musicMagpie Store right now! Just click below to start shopping.