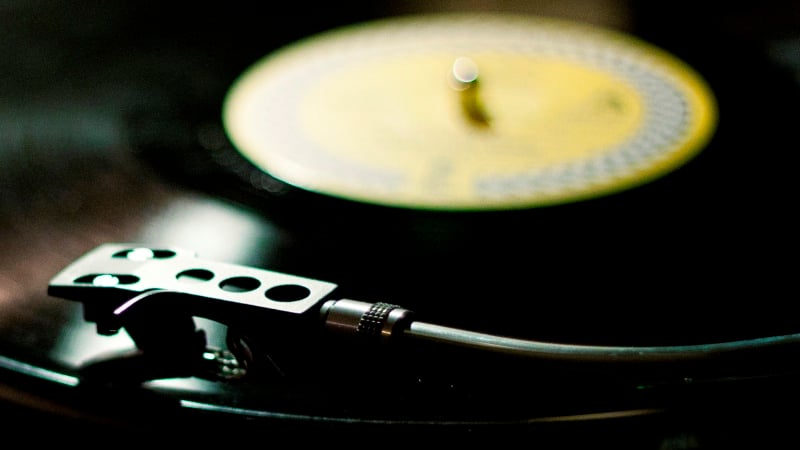 What is the most valuable record ever made?
It's no secret that music fans are willing to pay a lot of money for memorabilia. Special editions, tour exclusive t-shirts, locks of hair – the list goes on.
Nothing is more valuable than a rare record, however. Here are the world's most valuable albums and singles.
(P.S: we've only included actual songs and albums in this list, not copies of band rehearsals of live performances)
---
God Save the Queen (A&M version) – Sex Pistols
Value: £12,000
Shortly after EMI dropped the Sex Pistols for being very naughty boys, they signed to A&M Records. Obviously keen to make a buck off the band's notoriety, A&M were somehow shocked when Johnny Rotten & co walked into their offices and started causing trouble (which apparently included Sid Vicious destroying a toilet).
A&M dropped the Sex Pistols after just six days, although they managed to produce 20,000 copies of God Save the Queen in that time. Most were destroyed, although nine apparently survived.
As such, an original A&M pressing of God Save the Queen is worth a lot of money. One copy sold for £6,000 in 2015, although some estimate it's worth double that.
---
Do I Love You (Indeed I Do) – Frank Wilson
Value: £25,000
Do I Love You, arguably the most iconic Northern Soul track, almost didn't make it to these shores at all.
Frank Wilson recorded the track in 1965 and signed a deal with Motown Records offshoot Soul to distribute it. However, Wilson decided in the weeks leading up to the release that he wanted to focus on production instead and Berry Gordy, the owner of Motown, was reportedly not keen on Wilson's vocal performance. The deal fell through, and almost all 250 copies produced were destroyed.
Some survived, however. Only two copies of the Soul release have emerged to date, with one selling for £25,000 in 2009 – although we'd bet there are people willing to pay even more than that to own the ultimate Northern Soul collector's item!
---
Alcohol and Jake Blues – Tommy Johnson
Value: $37,000 (approx. £28,000)
Released in 1929 on the legendary Paramount Records, it's believed that there are only two surviving original copies of blues classic Alcohol and Jake Blues. No wonder blues fanatic and record collector John Tefteller was willing to pay an astronomical $37,000 for the privilege of owning it!
That fee makes Alcohol and Jake Blues the most valuable 78rpm record in the world, although Tefteller would probably argue that no amount of money is too much to pay for what he describes as the "˜holy grail' of blues records.
Oh, and don't even bother trying to buy this one. Even if you have $37,000 burning a hole in your pocket, Tefteller has said he won't sell it for any price.
---
Music for Supermarkets – Jean Michel Jarre
Value: £10,000 – £30,000
For his sixth record, a soundtrack to a supermarket-themed art exhibition, electronic music maestro Jean Michel Jarre decided to do something a little different; he recorded an entire album, made a single copy and then destroyed the master tapes.
The record was purchased by a French collector for around €10,000 (about £8,500), although it's now valued at close to £30,000.
Luckily, owning the physical copy isn't the only way to hear JMJ's supermarket-themed epic. The album was broadcast on Radio Luxembourg shortly after it was released, with some enterprising types making incredibly low quality bootlegs. Jarre also reworked some of the music from the record into his later albums.
---
Caustic Window (Test Pressing) – Aphex Twin
Value: $46,000 (approx. £36,900)
Caustic Window is a long lost album by beloved IDM mastermind Richard D. James, also known as Aphex Twin.
James produced the record in 1994 and it got as far as the test pressing stage before it was abruptly cancelled. Only five copies were produced and were presumed lost"¦ until one emerged on Discogs in 2014.
Shortly afterwards, electronic music forum We Are The Music Makers launched a Kickstarter campaign to purchase one of electronic music's most precious artifacts. Every backer was promised a digital version of the record in return.
The campaign eventually raised over $47,000. After the album was distributed digitally, the physical copy was sold to Minecraft creator Markus "˜Notch' Persson for $46,000. Proceeds of the sale went to the Kickstarter backers, Richard D. James and Doctors Without Borders.
---
That'll Be The Day/In Spite of the Danger – The Quarrymen
Value: £200,000
There's only one copy of this double A-side by the Quarrymen (otherwise known as the Beatles before they were the Beatles), and it's owned by none other than Sir Paul McCartney himself. The record, which features John, Paul and George, was produced in an electrical shop back in 1958.
Sir Paul is presumably holding onto the record for sentimental reasons, although it's estimated he could make a cool £200,000 if he ever decides to sell it. Not that he needs the cash, of course"¦
---
Pretty much anything rare recorded or signed by The Beatles – The Beatles
Value: Between £190,000 and £400,000
The Beatles are unquestionably the most popular band ever, so it's no surprise that most of their rare records are worth a lot of money.
There are countless examples of Beatles records selling for a lot of money, with a signed copy of Sgt Pepper's worth £190,000 and a mint sealed copy of Yesterday and Today with the notorious butcher cover worth £100,000 among the most valuable records.
Basically, if you have anything rare or signed by the Beatles, get it to your local auction house immediately.
---
My Happiness – Elvis Presley
Value: $300,000 (around £240,000)
Before he was the King, Elvis was a normal bloke who dreamed of being a singer.
Elvis paid $4 to record his first song, My Happiness, at Memphis' Sun Records in 1953. Afterwards, Elvis took the record back to his friend Jack Leek's house and left it there. Leek held onto the record and left it to his niece, who offered it to Graceland for auction in 2013.
Bids for the record started at $50,000, with a mystery buyer eventually placing a winning bid of $300,000.
A few months later, Jack White of The White Stripes revealed that he was the mystery buyer and announced that he would reissue the song on vinyl for Record Store Day 2015. These reissues obviously aren't worth anywhere near as much as the original though!
---
Ringo Starr's Copy of The Beatles (White Album)
Value: £522,438
It's fair to say that poor old Ringo Starr didn't have the best time making The White Album. The majority of the album was written at a transcendental meditation retreat in India, although Ringo didn't get along with the food and left after just over a month. Then, during recording, he got so fed up with his bandmates that he quit the band entirely (but returned later).
Fortunately, Ringo finally had a positive White Album-related experience (aside from all the critical acclaim and commercial success) when his copy of the record sold for £522,438 in 2015.
The record, which is marked with the category number 0000001, was kept in a vault for 35 years. All proceeds of the sale went to the Lotus Foundation, a charity that supports social welfare projects.
---
Once Upon a Time in Shaolin – The Wu-Tang Clan
Value: $2 million (approx. £1.6 million)
Back in 2014, Wu-Tang announced they were releasing a brand new double album. There was a twist, however: only one copy of the album would be produced .
The record, housed in an ornate nickel and silver box, was eventually sold at auction for $2 million dollars on the condition the new owner couldn't release the album commercially until 2103.
Unsurprisingly, a lot of Wu-Tang fans were upset they'd never get to hear the new album"¦ although they were even more upset when it emerged that notorious pharmaceutical mogul Martin Shkreli was the successful bidder.
Shkreli then unveiled his potential plans for the record: to install it in a remote location or destroy it entirely.
A third plan emerged in 2016, however, when Shkreli promised to release the record if Donald Trump was elected President. He's only streamed the intro and a single track to date, but has said he will negotiate the terms of a wider release with Wu-Tang.
In short, there's a slim chance you won't need to splash out $2 million to hear Once Upon a Time in Shaolin – but don't get your hopes up.
---
If you can't afford the records in this post, why not check out the musicMagpie Store instead? We've got loads of great vinyl at fantastic prices, from new releases to classic records, plus you'll get FREE delivery too. Just click below to buy vinyl!
Here are the most valuable records ever:
Once Upon a Time in Shaolin – Wu-Tang Clan ($2 million/approx. £1.6 million)
Ringo Starr's copy of The White Album (£522,438)
My Happiness – Elvis Presley ($300,000/approx. £240,000)
Anything rare or signed by The Beatles (between £190,000 and £400,000)
That'll Be The Day/In Spite of the Danger – The Quarrymen (£200,000)
Caustic Window (Test Pressing) – Aphex Twin ($46,000/approx. £36,900)
Music for Supermarkets – Jean Michel Jarre (between £10,000 – £30,000)
Alcohol & Jake Blues – Tommy Johnson ($38,000/approx. £28,000)
Do I Love You (Indeed I Do) – Frank Wilson (£25,000)
God Save the Queen (A&M version) – Sex Pistols (£12,000)