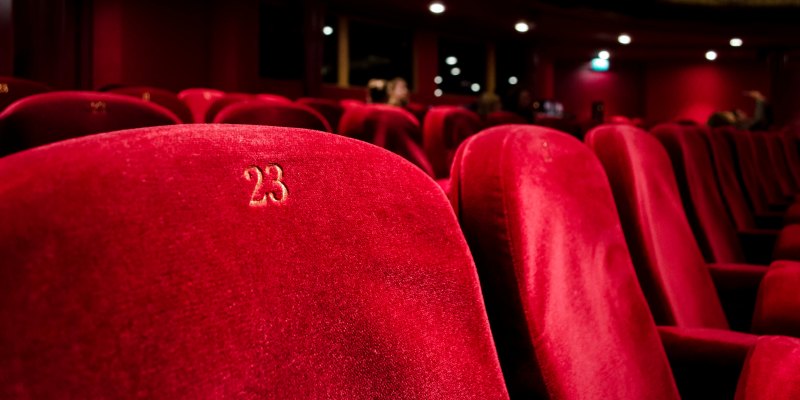 10 films to look forward to at Cannes Film Festival 2018
Bonjour mesdames et messieurs, c'est encore cette période de l'année. In the next few weeks, we will be seeing the seventy first edition of the Cannes Film Festival beginning. There's been a wide list of selections, so we at MusicMagpie will be counting down a list of potential features to look out for.
All countries are covered from the dominant likes of the US, France, Italy and Japan to the more far reaching, barely spoken of likes of Lebanon, Kazakhstan and Colombia.
Unfortunately, due to conflicts with the organisers, Netflix have withdrawn their acquired features from the festival meaning we will have to wait until later in the year for the likes of Alfonso Cuaron's Roma and Orson Welles's The Other Side of the Wind (which according to insiders, were highly desired by Thierry Fremaux).
Previously mentioned features Everybody Knows, Ash is the Purest White, The House that Jack Built, The Man Who Killed Don Quixote and Under the Silver Lake from our earlier list of upcoming indie, foreign language and documentary features of 2018 have been announced as competition entries along with a fiftieth anniversary screening of 2001: A Space Odyssey, so let's see what else there is to look forward to.
---
Birds of Passage
Directors: Cristina Gallego and Ciro Guerra (Colombia)
Colombian cinema has been picking up traction in the last twenty years and perhaps the most noted example is the acclaim and subsequent Oscar nomination bestowed upon Ciro Guerra's Embrace of the Serpent.
Now Guerra has returned, co-directing with his wife Cristina Gallego, with Birds of a Passage, a story of an indigenous family entering the drug trade in seventies Colombia. The trailer dropped recently, so let's hope Colombia's most prominent filmmaker can keep the momentum going.
---
Black Klansman 
Director: Spike Lee (USA)
Alternately titled BlackKklansman, this latest Spike Lee joint is a biopic of black cop Ron Stallworth (whose autobiography served as the basis of the film) and his infiltration and subsequent rise through the ranks of the Klu Klux Klan.
With Get Out's Jordan Peele and Jason Blum reuniting in producing roles and a cast including John David Washington, Adam Driver, Spider-Man Homecoming's Laura Harrier, Straight Outta Compton's Corey Hawkins, Topher Grace and Harry Belafonte, this could be a good one if Lee's on form.
---
Cold War
Director: Paweł Pawlikowski (Poland)
You may either know him as the immigrant filmmaker who cast a critical eye on British social class and alienation in Last Resort and My Summer of Love or the director of the Bresson-esque road movie Ida, but we can all agree that the latest feature of Polish auteur Paweł Pawlikowski is very much anticipated.
Returning to the Cold War setting of Ida (and possibly the monochrome cinematography of Lukasz Zal), Pawlikowski this time tells a love story of two mismatched people across the backdrops of 1950s Poland, Berlin, Paris and the former Yugoslavia.
Amazon is set to release the film in the US and Artificial Eye in the UK, so keep a close watch on the film's release date.
---
Dogman
Director: Matteo Garrone (Italy)
After dabbling in the comedy and fantasy genres with Reality and The Tale of Tales, Garrone returns to the crime-ridden streets he trod in 2008's Gomorrah with an "urban western" about a coked-up dog groomer who commits a homicide in late eighties Italy.
The trailer landed recently and from the look of it, it looks quite visually interesting and could be something to look out for if Garrone has successfully balanced style with substance.
---
The Image Book
Director: Jean-Luc Godard (France)
Another one of his cinematic essays, one of the last surviving members of the Nouvelle Vague examines the modern Arab world in a feature spread across five chapters and shot over two years in numerous countries, including Tunisia.
---
Shoplifters
Director: Hirokazu Kore-eda (Japan)
He made a bit of a hiccup at Venice last year, but the man they call the modern day Ozu (though Kore-eda prefers to be likened to Ken Loach) is back with a drama about a family of crooks taking in an abandoned child.
He managed previous accolades with Nobody Knows and Like Father, Like Son, but can Kore-eda land the big prize with this feature?
---
Summer
Director: Kirill Serebrennikov (Russia)
After making a splash at Cannes two years ago with The Student, director Kirill Serebrennikov, despite being under house arrest for a combination of fraud and the homophobia of the Russian state, upgrades from Un Certain Regard to a slot in the main competition with this depiction of the underground rock scene in 1981.
---
Three Faces
Director: Jafar Panahi (Iran)
Has being banned from filmmaking for twenty years done anything to slow down the output of Iranian filmmaker Jafar Panahi? I think this latest feature of three actresses and their stories against the mountain slopes outside Tehran speaks for itself.
And to be honest, I'm still wondering how they manage to get these features out of Iran without the authorities knowing.
---
The Wild Pear Tree
Director: Nuri Bilge Ceylan (Turkey)
He has been collecting Cannes prizes for the likes of Uzak, Three Monkeys, Once Upon a Time in Anatolia and the Palme d'Or winning Winter Sleep, now Nuri Bilge Ceylan is back for more additions to his trophy cabinet with the tale of an aspiring writer returning to her native village and having to deal with her father's debts.
Acquired by New Wave Films for a UK release and one of the many late additions to the competition, let's see if it was one worth including and Ceylan gets another prize out of it.
---
Wildlife
Director: Paul Dano (USA)
We can assume that Greta Gerwig's success with Lady Bird is continuing to open the successful floodgate of her fellow indie actors entering the director's chair.
The most recent example can be seen in the directorial debut of Paul Dano, which received acclaim at Sundance and is set to open the International Critic's Week section here. Wildlife is a 60s period piece adapted from a novel by Richard Ford involving a boy watching his parents' marriage fall apart and his mother fall in love with another man.
Jake Gyllenhaal and Carey Mulligan headline the feature with The Visit's Ed Oxenbould in the lead role. This could also potentially form part of a comedic actor-turned director one-two with A24 set to release Jonah Hill's directorial debut Mid-90s later this year.
---
Honourable mentions: Leave No Trace (Debra Granik, USA), Mandy (Panos Cosmatos, USA), Long Day's Journey Into Night (Gan Bi, China), Happy as Lazzaro (Alice Rohrwacher, Italy), Asako I & II (Ryūsuke Hamaguchi, Japan), The Little One (Sergei Dvortsevoy, Kazakhstan)
---
And of course any release that comes out of left field and surprises us all…
Want to check our previous Palme D'or winners, along with loads of other movies? Buy Blu-rays from the musicMagpie Store today and you'll get FREE delivery too! Why wouldn't you?