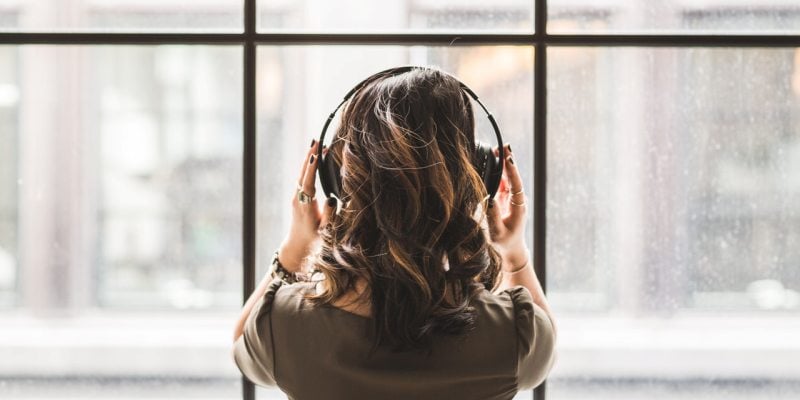 7 of the best albums of 2018
When it comes to entertainment, 2018 completely smashed it out of the park. The games have never been better, the movie releases were incredible but not much could top the musical offerings of the last 12 months.
But, which LPs outshone the rest? Here are the 7 best albums of 2018, in our humble opinion.
---
Travis Scott – Astroworld
It's been a pretty busy year for Jacques Webster, better known by the moniker Travis Scott. He welcomed his first child, Stormi, with reality royalty Kylie Jenner in February but that didn't stop him from releasing one of the most anticipated albums of the year.
Astroworld was originally slated for a 2017 release, named after an amusement part in Houston, Texas. Despite the setback (he did have a baby, so…), Scott's album blew us all away. With huge features from Drake, Quavo and Frank Ocean on his dizzying trap and soul inspired sound, we were hooked.
It's no surprise Astroworld is up for Best Rap Album at the Grammys, with Sicko Mode receiving nominations for Best Rap Performance and Best Rap Song.
---
Cardi B – Invasion of Privacy
Has there been a better climb to superstardom in recent years than Belcalis Almanzar's? Cardi B began her humble beginnings on reality TV and through her larger than life posts on Instagram, but over the last 12 months she's certified her status as a rap goddess.
Cardi dropped Invasion of Privacy back in April, meeting with critical acclaim across the board and debuting at number one on the American Billboard 200 chart. To date, Cardi is only the fifth female rapper to top the chart.
The huge track Bodak Yellow graces Invasion of Privacy, as does single Be Careful, issued as a warning to her husband Offset when it comes to his unfaithful ways. Cardi may not have been taken seriously as an artist before now, but with her own share of Grammy nods, the world is listening.
---
Arctic Monkeys – Tranquility Base Hotel and Casino
After a five year hiatus that felt like a lifetime, Sheffield's very own Arctic Monkeys made their return in 2018 with the psychedelic concept album Tranquility Base Hotel and Casino.
Frontman Alex Turner took a huge risk with the band's sixth album, toning down the guitars that made them famous for a more piano-focussed sound. It raised a few eyebrows, and maybe even took a few listens but Turner's genius could not be ignored. The album topped the charts in their home country, as well as Portugal, France and Australia.
Lead single Four Stars Out of Five was more entrenched in 2011's Suck It and See vibe, but while discussing worldly topics like natural disasters and gentrification. What more would we expect from Mr Turner?
The album made waves, gaining a Mercury Prize nomination as well as Best Alternative Music Album nod at the Grammys.
---
Janelle Monáe – Dirty Computer
Janelle Monáe used to be recognisable for her androgynous, monochromatic style and perfectly put together bouffant hair. Not any more – her third album Dirty Computer splashed her whole image with endless colour, and producing a sound Prince would be proud of.
Alongside her beautifully put together album that has been hailed for championing LGBT+ voices were the equally immense visuals. Arguably the most famous was for PYNK, drenched in pastel colours and those eye-catching trousers.
The strong females that inspired this album are clear – from TLC to Lauryn Hill – and Monáe provides a creative, articulate platform for the people she represents.
---
Pusha T – Daytona
GOOD Music's Pusha T had a busy year, dropping one of the five albums produced by Kanye West this calendar year and revealing to the world that Drake had a secret child. Rap beef would never be the same again.
Daytona was officially completed just two days before it dropped, and there were issues with the artwork licencing. The odds were up against him, but Pusha's album – although only 7 tracks long – was too good a gem to get weighed down by the drama.
Drake may have had the last word on his beef with Meek Mill, but Pusha's revelation of Drizzy's child on his track The Story of Adidon stopped Drake in his tracks, forcing his own admission of the child no one knew about. This, topped with his own Grammy nomination for Best Rap Album and gracing just about every single end of year list for best albums proves a super successful year for Pusha. If you know, you know.
---
Ariana Grande – Sweetener
Don't let the title fool you. Sweetener isn't a sugar-coated, Disney classic – this is Ariana's fully-fledged, grown woman masterpiece. After a turbulent 18 months, she's back to her blistering best with an absolute peach of a pop album.
Grande dropped single No Tears Left to Cry back in April before second single God Is a Woman came just three months later. Her mixture of smooth and sweet vocals with some strong R&B influences made for a perfect package.
The album was released just weeks before the untimely death of her ex-boyfriend Mac Miller and the breakdown of her engagement to comedian Pete Davidson. Both helped inspire her latest track, Thank U, Next, which was a record breaker.
---
Mac Miller – Swimming
Mac Miller's fifth album dropped in August, showing his immense skill for production, lyrics and themes. Little did we all know at the time, it would be the last album Malcolm McCormick would put out.
In an era where honesty in rap occurs few and far between, Mac bucked a trend to share his own struggles with those who have been by his side since the beginning. He had been through a lot and was open about the end of his relationship with Ariana Grande, self-love and mental health.
Swimming seemed to show that he had grown to accept his lot in life – rather than dwelling on the bad, there was positivity to be found, even in the darkest moments. Mac had been drowning but now, he was swimming. The album was critically acclaimed but little over a month after its release, Mac Miller sadly passed away. Swimming is in the running for Best Rap Album at the Grammys.
---
Here are our picks for the best albums of 2018:
Travis Scott – Astroworld
Cardi B – Invasion of Privacy
Arctic Monkeys – Tranquility Base Hotel and Casino
Janelle Monáe – Dirty Computer
Pusha T – Daytona
Ariana Grande – Sweetener
Mac Miller – Swimming
Is your music collection in need of a refresh? Get your hands on CDs for as little as £1.09 at the musicMagpieStore with FREE delivery!