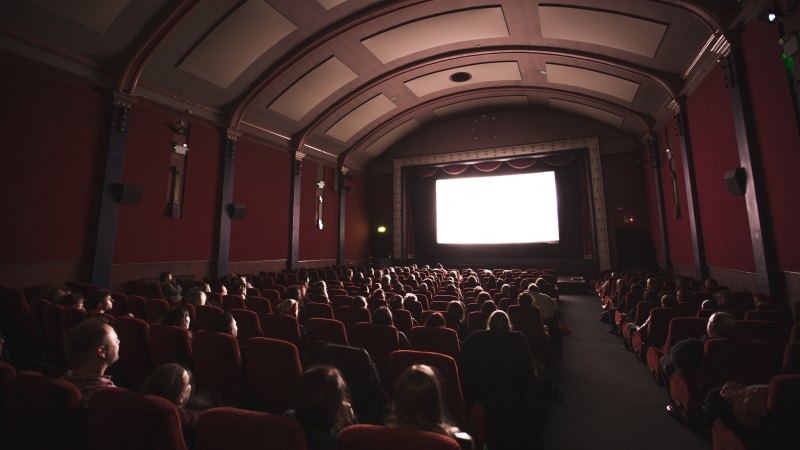 Cannes Film Festival 2019 preview: which films should you look out for?
It's that time of year again and the line-ups for the 2019 Cannes Film Festival have been announced. We have mainstream features such as Quentin Tarantino's 60s cinema tribute Once Upon a Time in Hollywood and the Elton John biopic Rocketman premiering in competition and out of it respectively, but we wanted to focus on the more specialist entries. So here's our rundown of the films to keep an eye on in the 2019 Cannes Film Festival.
---
The Atlantides
After starring in such diverse films as Claire Denis' 35 Shots of Rum and Antonio Campos' Simon Killer, actress Mati Diop moves behind the camera for her debut feature after four shorts and a documentary. Originally titled Fire Next Time, this is not an adaptation of the James Baldwin novel The Fire Next Time. It is the story of Adele, a sixteen year old beautician in Senegal whose life is turned upside down when her lover goes missing and the bodies of his friends start washing up on the shore of Dakar. Shot in Senegal in the Wolof language, this could be quite a debut.
---
The Beanpole
One of the rising filmmaking stars of 2017, Kantemir Balagov proved his abilities with his Cannes prize winner Closeness. Now he returns to the Croisette with his latest movie The Beanpole, a story of two women trying to rebuild their lives amid the ruins of 1945 Leningrad.
---
The Dead Don't Die
He tackled vampires in Only Lovers Left Alive, now indie darling Jim Jarmusch offers his take on zombies in this comedy-horror follow-up to 2016's Paterson. Cast in this film are Adam Driver, Bill Murray, Selena Gomez, Tilda Swinton, Danny Glover, Tom Waits, Steve Buscemi, Chloë Sevigny, Carol Kane, RZA, Iggy Pop and Caleb Landry Jones. Not too shabby for our 2019 Cannes opener.
---
Frankie
Next we have a multigenerational story of a life-changing event on a Portuguese holiday from Ira Sachs (Leave the Lights On, Love is Strange and Little Men). Aboard for this venture are Isabelle Huppert (as the titular character), Marisa Tomei, Greg Kinnear and Brendan Gleeson.
---
A Hidden Life
I have previously covered this project formerly titled Radegund in other blog posts, so I'll keep it brief. Terrence Malick has somewhat lost his footing after The Tree of Life, but could this biopic of conscientious objector Franz Jägerstätter be a return to form? Cast includes August Diehl, Matthias Schoenaerts, Das Boot's Jürgen Prochnow and the late Michael Nyqvist and Bruno Ganz in their final screen roles.
---
It Must Be Heaven
Journeying across multiple countries, filmmaker Elia Suleiman begins to find unexpected parallels with his homeland of Palestine in this docu-comedy. Suleiman is no stranger to exploring Palestinian identity, as demonstrated in narrative features Divine Intervention and The Time that Remains, but now he tackles this subject in more mockumentary style with elements of humour thrown in.
---
Il Traditore
Translated in English as The Traitor, this is the latest feature from Italian filmmaker Marco Bellocchio. After achieving success in 2009 with his Mussolini biopic Vincere, Bellocchio returns to the realms of Italian history, this time travelling back to the eighties to focus on Sicily's first mafia informant Tommaso Buscetta (also known as the 'boss of two worlds').
---
Maradona
After using his signature style of documentary filmmaking to bring to recreate and offer new insight into the lives of Ayrton Senna and Amy Winehouse, Asif Kapadia returns to the silver screen, four years after taking home the Academy Award for Best Documentary Feature. For his new documentary feature, Kapadia works his way through five hundred hours of previously unseen footage to present the life of football legend Diego Maradona, through his time as Argentina's star player, drug addiction and the political activism he did on the side.
---
Matthias & Maxime
It's fair to say on his last two features, Canadian prodigy Xavier Dolan has sort of lost his way with his questionable Grand Prix winner from his last Cannes visit It's Only the End of the World and disastrous English language debut The Death and Life of John F. Donovan. With his latest feature, Dolan returns to his small scale roots with this dramatic feature starring himself, recurring collaborator Anne Dorval and up and coming actor Harris Dickinson (Beach Rats). Is this a return to form for Dolan?
---
Nighthawk
Let's be honest, Brazil made a big mistake three years back when they snubbed Aquarius as their Foreign Language Oscar submission. For the rest of us, we can rejoice as director Kleber Mendonça Filho (along with co-director Juliano Dornelles) ventures into the sci-fi genre. The plot concerns a documentary filmmaker venturing into the Brazilian interior, only to find the locals are not what they appear to be and are hiding dangerous secrets. Filho reteams with Aquarius star Sonia Braga and brings along German character actor Udo Kier along for the ride.
---
Pain and Glory (Dolar y Gloria)
The latest from Pedro Almodovar sees him reunite with recurring collaborators Antonio Banderas, Penelope Cruz and Cecilia Roth for a filmmaker's reflections on how his past and present decisions have affected his life. Is this Almodovar's 8½? We'll let you decide in May and when the film hits British screens on 23rd August.
---
Parasite
After dabbling in Hollywood for his last two films (Netflix release Okja and the yet-to-be-released-in-the-UK Snowpiercer), Bong Joon-ho returns to his native South Korea for this family drama of two families getting tangled up in an unexpected incident, his first Korean language film since 2009's Mother. NEON has acquired the US distribution rights to the film, with a UK distributor yet to be found.
---
The Passenger
What's better than one Romanian New Wave figure gracing the Croisette? Two, of course. Here we have a story of a Romanian cop travelling to the Spanish island of La Gomera to free a businessman arrested in Bucharest, brought to you in comedic thriller/neo-noir form by Corneliu Porumboiu (12:08 East of Bucharest, Police, Adjective and The Treasure). Originally titled The Whistlers, the film also utilises the regional dialect consisting of hissing and spitting. Oh and it also borrows its English language title from Michelangelo Antonioni's 1975 Jack Nicholson film of the same name.
---
Portrait of A Lady on Fire
After dabbling in animation as screenwriter of 2016's My Life as a Courgette (or Zucchini for any Americans reading), Tomboy's Céline Sciamma returns to the realm of live-action with her first directorial outing since 2014's Girlhood. Set towards the end of the eighteenth century on an island in Bretagne, the film concerns female painter Marianne who is obliged to paint a wedding portrait of Héloïse, a young wife-to-be, and their relationship that forms in the days leading to the wedding.
---
Sorry We Missed You
After claiming the Palme d'Or on his previous cinematic outing I, Daniel Blake, Ken Loach once again graces our screens with a second burning indictment of austerity, this time focusing on the 'gig economy' and the social burdens it carries.
---
The Young Ahmed
Two time Palme d'Or winners Jean-Pierre and Luc Dardenne make their return to Cannes with their take on religious extremism. This could be their most controversial feature.
---
The Lighthouse
After breaking out in a big way with colonial horror movie The Witch, director Robert Eggers has a second stab at the horror genre with this story of a lighthouse keeper in early twentieth century Maine. With a two-man cast of Willem Dafoe and Robert Pattinson, this film was shot on 35mm monochrome film, which could offer us yet another spine-tingling offering.
---
The Cannes Film Festival begins on 14th May and will run until 25th May. In the meantime, why not get your film fix and buy Blu-rays on the musicMagpie Store? We have everything from cinematic classics to arthouse favourites, plus you'll get FREE delivery with every order.