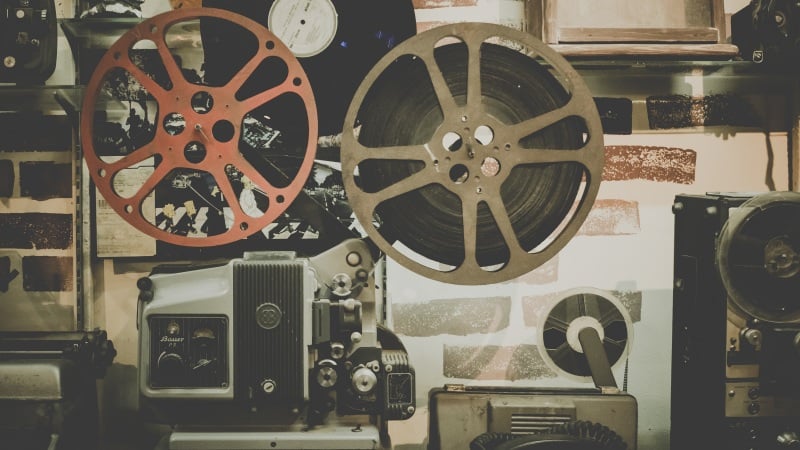 14 films to look out for at this year's major festivals
It's that time of year again where the late summer through autumn film festival circuit kicks into gear with the Venice, Telluride and Toronto Film Festivals with London and New York following in late autum to early winter. We have a range of features premiering from the mainstream likes of DC's standalone Joker film with Joaquin Phoenix, James Gray's long-awaited sci-fi epic Ad Astra and James Mangold's motor racing drama Ford v Ferrari (or for us UK folk, Le Mans '66) to a list of the indie and foreign language fare that will be revealed in this blog post.
---
About Endlessness
Five years after A Pigeon Sat on a Branch Reflecting on Existence conquered the Venice Film Festival, we look set to be taking another trip into the surreal imagination of Roy Andersson with this comedy with a plot inspired by One Thousand and One Nights. After five years away, can Andersson once again achieve greatness on the Lido?
---
Dolemite Is My Name
From the pen of Ed Wood, The People vs Larry Flynt and American Crime Story scribes Scott Alexander and Larry Karaszewski and director Craig Brewster of Hustle and Flow comes this biopic of Rudy Ray Moore, the actor and musician most famous for his Blaxploitation Dolemite film series.
Eddie Murphy takes on the role of Moore with a supporting cast consisting of Wesley Snipes, Chris Rock, Da'Vine Joy Randolph, Mike Epps, Craig Robinson, Titus Burgess, Keegan-Michael Key and Kodi Smit-McPhee.
---
Ema
In 2016, Chilean filmmaker Pablo Larraín managed a biopic double-whammy with native production Neruda and getting out a mesmerising performance from Natalie Portman in his English language debut Jackie.
Now he has returned to the director's chair (after producer duties on fellow Chilean filmmaker Sebastian Lelio's A Fantastic Woman and Gloria Bell) for a feature about a household falling apart after an adoption goes awry, with some interpretive dance thrown in. This is also the second time he has collaborated with Mexican acting sensation Gael García Bernal.
---
Jojo Rabbit
Taking a break in between Thor: Ragnarok and the recently announced Thor: Love and Thunder, Taika Waititi brings us this "˜anti-hate satire' based on the Christine Leunens novel Caging Skies.
Taking influence from Dr Strangelove and The Great Dictator, the plot is of Jojo "Rabbit" Betzler, a member of the Hitler Youth learning to confront his blind nationalism after his mother hides a young Jewish girl.
Waititi also plays a supporting role as the boy's imaginary friend (an imaginary Adolf Hitler) with Scarlett Johansson, Sam Rockwell, Rebel Wilson, Alfie Allen, Stephen Merchant and Leave No Trace's Thomasin McKenzie forming the rest of the ensemble with Michael Giacchino providing the score and The Master's Mihai Mălaimare Jr lensing the feature.
---
The Laundromat
You can't keep a good filmmaker down since Steven Soderbergh's supposed retirement didn't last long as he is set to bring along his second film of 2019 (after sports drama High Flying Bird) to Toronto.
Once again pairing up with recurring screenwriter Scott Z. Burns (who made his second directorial outing this year with political drama The Report), Soderbergh adapts Jake Bernstein's book Secrecy World: Inside the Panama Papers Investigation of Illicit Money Networks and the Global Elite for this story of a group of journalists unearthing the Panama Papers in 2015.
As if that's not enough, this film boasts an ensemble that includes Meryl Streep, Gary Oldman, Antonio Banderas, David Schwimmer, Melissa Rauch, Will Forte, Matthias Schoenaerts, Jeffrey Wright, James Cromwell, Alex Pettyfer, Larry Wilmore, Robert Patrick and voice actors Chris Parnell and Juliet Donenfeld.
Let's hope Soderbergh has another winner on his hands.
---
Marriage Story
In his second film for the online streaming company Netflix, Noah Baumbach pairs up with Harry Potter, Gravity and Paddington producer David Heyman (who also has producing duties on Quentin Tarantino's Once Upon a Time in Hollywood) to present this story of a marriage falling apart as his follow-up to 2017's The Meyerowitz Stories: New and Selected.
For this, Baumbach reteams with Adam Driver and forms a cast that also includes Scarlett Johansson, Laura Dern, Alan Alda and Ray Liotta. Is this the film that gets Baumbach the awards attention he was denied back in 2005 with The Squid and the Whale?
---
Motherless Brooklyn
For his first directorial outing in nineteen years, Edward Norton elects to write, helm, produce and star in this adaptation of Jonathan Lethem's 1999 novel of a private investigator with Tourette's trying to solve his mentor's murder (but with the setting altered to the 1950s).
Alongside Norton are Willem Dafoe, Bruce Willis, Gugu Mbatha-Raw, Alec Baldwin, Leslie Mann, Bobby Cannavale, Fisher Stevens and Michael K. Williams with cinematography being provided by Mike Leigh's frequent collaborator Dick Pope and music by Daniel Pemeberton.    
---
The Perfect Candidate
After stumbling with her English language debut Mary Shelley but slightly recovering with Nappily Ever After, rising filmmaker Haifaa Al-Mansour returns to her home country of Saudi Arabia, where she burst onto the filmmaking scene in 2012 with her scathing social drama Wadjda, for her fourth directorial outing.
Like her previous native feature, the film focuses on and critiques the role of women in Saudi society with the story of a woman who runs for political office while her father is away touring with the re-established Saudi National Band.
In addition to Al-Mansour reuniting with her Wadjda producers, this will be the first film to be created through support from the newly formed Saudi Film Council. With it competing in the competition line-up at Venice, can Al-Mansour return to form?
---
The Personal History of David Copperfield
After his political black comedy The Death of Stalin, Armando Iannucci takes things in a different direction with this adaptation of the Charles Dickens novel.
The players for this new adaptation are Dev Patel as the titular character with Tilda Swinton, Hugh Laurie, Peter Capaldi, Ben Whishaw, Paul Whitehouse, Benedict Wong and Gwendoline Christie in supporting roles. This film will premiere at Toronto and will kick off the festivities at this year's BFI London Film Festival. 
---
The Truth
Director Hirokazu Kore-eda follows up his Palme d'Or winning and Oscar nominated Shoplifters with this French family drama with Catherine Deneuve, Juliette Binoche and Ethan Hawke.
The story of an actress and her complicated relationship with her screenwriter daughter, this will be Kore-eda's first film not in his native language. It's opening the Venice Film Festival, will there be fireworks again?
---
Uncut Gems
After surprising this author in 2017 with their crime drama Good Time, the Safdie Bros (Benny and Josh) return with this comedic entry into the genre with Adam Sandler as a diamond dealer who must find a way to pay his debts following the theft of his merchandise from one of his clients and his girlfriend.
Along with Sandler, the film sports an ensemble featuring Sorry to Bother You's Lakeith Stanfield, Idina "˜Let it Go' Menzel, Judd Hirsch and Pom Klementieff (MCU's Mantis) and has Martin Scorsese and Scott Rudin attached in producing roles. Here's hoping the Safdies have another triumph on their hands.
---
Waiting for the Barbarians
In recent years, Colombian cinema has found a strong place on the cinematic map, mostly due to the work of Ciro Guerra. He landed the country's first Oscar nomination for Foreign Language Film with his Amazonian drama Embrace of the Serpent and last year wowed us with his epic crime drama Birds of Passage.
Continuing his theme on the impact of influences of the western world on the native populations, Guerra makes his English language debut with this adaptation of J. M. Coetzee's acclaimed 1980 novel of a magistrate who witnesses first-hand the harsh and brutal effects of colonialism that make him question his loyalty to "˜the Empire'.
Mark Rylance stars as the magistrate with Johnny Depp, Robert Pattinson, The Player's Greta Scacchi, Harry Melling and Sam Reid starring alongside.
---
Wasp Network
After a trilogy of films delving into the world of celebrity and the creative process (The Clouds of Sils Maria, Personal Shopper and Non-Fiction), Olivier Assayas returns to the territory he covered in his 2010 miniseries Carlos with this feature on the Cuban Five (five Cuban agents sent to Miami to infiltrate anti-Castro groups in the late nineties).
In addition, this features the cream of the Spanish-language acting crop including Penelope Cruz, Gael Garcia Bernal, Narcos star Pedro Pascal, Blade Runner 2049's Ana de Armas and a reunion between Assayas and his Carlos star Edgar Ramirez (though the film will be in English).
---
Weathering with You
After conquering the Japanese box-office and winning over many in the western world with his animated film Your Name, Makoto Shinkai brings along his long-awaited follow-up for its debut in the Western world.
The story is of a recent high school graduate who lives an isolated life in Tokyo until he meets a young girl with the ability to stop rain and clear the skies. GKIDS has acquired this film for an early qualifying run later on this year before giving it a wide release in 2020.
---
Don't forget that you can check out the latest and greatest cinematic releases on the musicMagpie Store, all at fantastic prices with FREE delivery too. Buy Blu-rays today and build your collection!