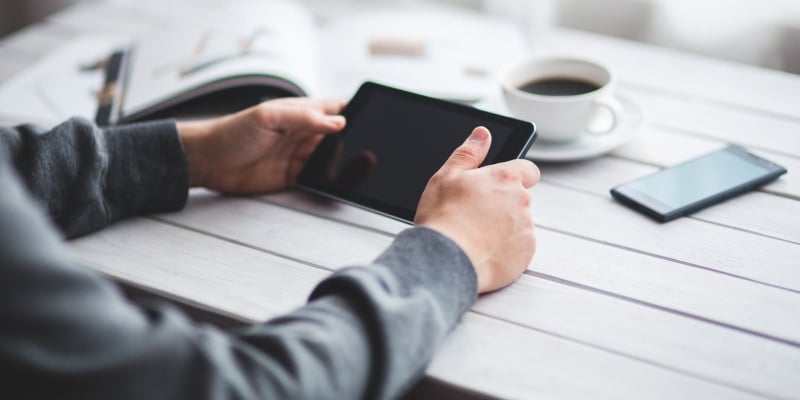 5 of the most exciting new tablets
Planning to upgrade to a new tablet? Here are a few of the best new devices around!
---
iPad Pro
If you believe that bigger is better, then you'll love the iPad Pro. With a 12.9 inch display, it's the biggest iPad ever and almost as big as a MacBook!
It's not just size that makes the iPad Pro different, though. It's also one of the first iPads to introduce split-screen apps for multitasking, while the A9X processor chip and 4GB of RAM mean it can handle high intensity apps like Photoshop with ease. It's the most powerful Apple device without 'Mac' in its name.
Apple has launched two accessories to complement the iPad Pro: the Apple Pencil and a Smart Case.
The Pencil is used to doodle, draw and design across a number of apps, and you can shade as you would with a normal pencil too. The cost is a bit steep at £79, although you'll love it if you're a creative type.
The Smart Case is essentially a clip-on keyboard for writing on the go. It's not quite as good as a desktop or laptop keyboard, but it's ideal if you're a writer constantly travelling. It's £129, although cheaper alternatives are available.
Despite the focus on productivity and creativity, the iPad Pro's larger screen make it great for watching movies too. The crisp Retina screen brings HD video to life, while the four speakers provide a surprisingly decent audio experience without headphones too.
Cost: £679 for a 32GB Wi-Fi version. Pencil and Smart Case sold separately.
---
Samsung Galaxy View
Samsung's new tablet isn't technically a tablet: with an 18.4 inch screen, it's more like a small TV. A TVablet, if you will (we wouldn't).
The View, as the name suggests, is made for watching videos. It's designed with a built-in back panel which props it upright, so it's practically like a television. You can lay it down for web browsing and playing games, though.
The View has clearly been designed for people who watch TV on their laptops, a portable device that recreates the full-size TV watching experience. Its size means you're hardly going to whip it out on the train, but it's great for moving around the house with.
It's no slouch performance-wise either, with an octa-core processor and 2GB of RAM. It can handle most apps, including high-end games.
Details about the UK release haven't been released yet, but we're fairly certain that all of your favourite streaming services like Netflix, Amazon Prime, All 4 and BBC iPlayer will be available.
Cost: $600 in the US, which is around £390.
---
Surface Pro 4
The Surface Pro 4 is Microsoft's latest attempt to merge the laptop and the tablet, and it's possibly their best table to date.
The display has been upgrade to 12.3 inches with thinner bezels and no physical buttons, creating a much sleeker experience. Microsoft claims that the display can detect 1,024 levels of pressure with the Surface Pen (which is included with the Surface Pro).
Unlike the iPad Pro, the Surface runs on a full operating system, Windows 10. That means you can use desktop apps on it, giving you plenty of ways to work.
Microsoft are selling a few different versions of the Surface, although the mid-range model with a powerful Intel Core i5 processor is suitable for most tasks.
The only real downside is that the type cover keyboard isn't included and costs an extra £109. It's good quality, but it pushes the overall price of the Surface above some high-end laptops.
Cost: £849 for the 128GB Core i5 model.
---
Amazon Fire
The new Amazon Fire tablet isn't that big and isn't that powerful. In fact, it's pretty average in all but one aspect: the price.
The Fire costs less than £50, making it one of the cheapest tablets on the market. For that, you get a 7 inch display, a 1.3 GHz quad-core processor and two cameras. You also get access to Amazon Underground, a unique app store where everything is free – including in-app purchases.
The Fire only comes with 8GB storage as standard, but a microSD slot means you can boost that by 128GB. You also get unlimited cloud storage for Amazon content.
It's not the most powerful of devices, but you can't go far wrong if you just want a tablet for entertainment.
Cost: £49.99
---
Rufus Cuff
At first glance, the Rufus Cuff looks a bit like a wrist-bound Tamagotchi. But it's actually the world's first 'wrist communicator', which is basically a mix between a tablet and a smartwatch.
The Rufus Cuff features a 3.2 inch screen, which is huge by wearables standards, and runs off a full version of Android rather than Android Wear, which means you get more apps to choose from.
With a front-facing camera, Wi-Fi and GPS, this is possibly the world's first tabletwatch – although we doubt it'll be the last…
Cost: Pre-orders start from $249 (£163) on the Rufus Cuff IndieGoGo.
---
Sell your tablet with musicMagpie to pay for your upgrade! We pay on the same day we receive your items, which means you can buy your new tablet sooner. Just click below to get started.