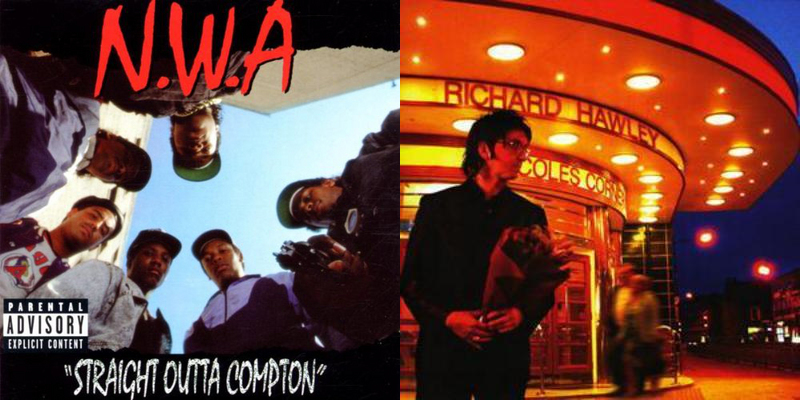 Father's Day Gift Ideas: 10 alternative CDs to buy your Dad
Father's Day (19th June, put it in your calendar) is fast approaching, which means most of us are now in the 'oh ****, what shall I get for Dad?!' stage. Socks? Beer? A novelty tie?!
Don't worry: we've got your back with some top gift ideas for dad. We've picked out 10 CDs we reckon will go down a treat with Dads this Father's Day. However, instead of going for the usual Queen/Dire Straits selection, we've opted for CDs that are a little different. And best of all, they're all in our 2 for £5 offer in the musicMagpie Store!
If none of these take your fancy, check out our Father's Day collection of CDs, Vinyl, DVDs, Blu-Rays and Games – you're bound to find something he'll love. Or, if Dad's more of a gamer, enter our competition to win a PS4 and 6 (!) games on Facebook!
---
Appetite for Destruction – Guns N' Roses
Let's start with a 'safe' choice. Appetite for Destruction is one of the best rock albums ever made, combining good old fashioned rock and roll with attitude and swagger.
Appetite is rife with potential air guitar moments, with Slash chucking out legendary solos on pretty much every track, from Sweet Child O Mine to Rocket Queen. If Dad's more of a 'sing behind the wheel' kind of guy, he'll have plenty of fun trying to keep up with Axl Rose's vocal acrobatics too.
Buy Appetite for Destruction by Guns N' Roses on the musicMagpie Store
---
Pink Moon – Nick Drake
Being a Dad is tough. You bring up a kid from birth, spending pretty much all of your money, only to see them surpass you in physical fitness, talent and looks (sorry Dad!).
Every Dad has his introspective, quiet moments – and that's where Nick Drake, the master of introspective melancholy, comes in. Pink Moon is arguably his masterpiece, flowing with a uniquely British sadness that is strangely uplifting. Perfect for when he's moping after you've just beaten him at pool for the millionth time…
Buy Pink Moon by Nick Drake on the musicMagpie Store
---
Dirt – Alice In Chains
A 15 year old who enjoyed Dirt back when it was released in 1992 is now fast approaching 39. The grunge generation is hitting middle age, which means the likes of Nirvana, Pearl Jam and Alice In Chains are perilously close to being included on the next Dad Rocks compilation.
Even if your Dad was a little too old to fully appreciate the grunge era, there's no denying that Dirt is a fantastic rock album. Them Bones, Would? and Angry Chair are particular highlights.
Buy Dirt by Alice in Chains on the musicMagpie Store
---
Anthology – The Ramones
Once upon a time, your dad was probably a pretty cool guy who liked young people things like punk rock and leather jackets with patches stitched onto the back.
Your pops doesn't need to have been a fully-fledged card carrying member of the safety pin through the nose club to appreciate the Ramones though. Anthology is packed with catchy punk numbers that work their way into your head and stay there for days.
Buy Anthology by The Ramones on the musicMagpie Store
---
American IV: The Man Comes Around – Johnny Cash
AKA the country artists everyone likes even if they don't really like country. Any exhausted dad will find solace in Johnny Cash's world-weary but soulful voice.
The Man Comes Around consists of covers of popular rock songs, including Hurt by Nine Inch Nails, Personal Jesus by Depeche Mode and Desperado by the Eagles, which means dad should be able to singalong without having to learn too many words first.
Buy American IV: The Man Comes Around by Johnny Cash on the musicMagpie Store
---
Straight Outta Compton – NWA
We know what you're thinking: my dad, listening to one of the most coolest and most dangerous bands of all time? A band l like? Are you insane?!
To which we say: George Osborne. The Chancellor of the Exchequer and father of 2 is a noted fan of Dre, Ice Cube and co, admitting that he went to a gig when he was younger (the "coolest thing" he's ever done) and that F**k the Police is his favourite NWA song. Ice Cube has even called Osborne his "homie". Honestly, we're not making this up.
If George Osborne – that bloke from the telly who bangs on about the economy – can enjoy the music of NWA, then we have no doubt that your dad can too.
Buy Straight Outta Compton by NWA on the musicMagpie Store
---
Close to the Edge – Yes
Gangsta rap isn't everyone's cup of tea, so here's a healthy dose of proggy goodness instead. Close to the Edge is a must listen for prog fans; anyone who's ever enjoyed a Pink Floyd album will find plenty to enjoy here too.
In true prog fashion, Close to the Edge only has three tracks – one of which is 18 minutes long. Rick Wakeman, who has since forged a career as a grumpy father figure, also contributes keyboards.
Buy Close to the Edge by Yes on the musicMagpie Store
---
Coles Corner – Richard Hawley
For a record released in 2005, Coles Corner sounds more like something you'd expect from a singer-songwriter in the 60s or 70s. It's full of crooned ballads, swelling orchestras and gentle love songs – the kind of material Roy Orbison or Elvis Presely might have released.
Richard Hawley, an ex-member of Pulp, embraces his influences strongly and the result is a stunning take on retro genres without being derivative. Coles Corner received a lot of positive acclaim when it was released and was even nominated for the Mercury Prize; it lost out to those young whippersnappers, the Arctic Monkeys.
Buy Coles Corner by Richard Hawley on the musicMagpie Store
---
Violator – Depeche Mode
You'd be forgiven for thinking every dad enjoys guitar music exclusively, given the amount of dad-aimed compilations that come out with nothing but Queen, Dire Straits and Bruce Springsteen.
However, we know more than a few pops out there prefer the industrial swirl of synths and drum machines, and there are few better synth-pop albums than Violator. Yes, it's slightly gloomy but your dad should be able to have a little boogie behind the wheel while he hares down the M6 to the sound of Enjoy the Silence.
Buy Violator by Depeche Mode on the musicMagpie Store
---
The Whole Story – Kate Bush
Like we said: not all dads enjoy listening to macho guitar rock! Kate Bush is one of the nation's finest singer-songwriters and pretty much everyone has tried singing along to Wuthering Heights at least once in their life. We're pretty certain he'll love this. And if he doesn't, you can always keep it for yourself.
Oh, and if you need further proof of Kate Bush's dad cred, check out this remarkable medley performed by Alan Partridge, who is like a template for embarrassing dads.
Buy The Whole Story by Kate Bush on the musicMagpie Store
---
The musicMagpie Store is one of the cheapest places to buy CDs online, with prices starting from just £1.19 and loads of great offers to shop from too. Click below to start browsing!