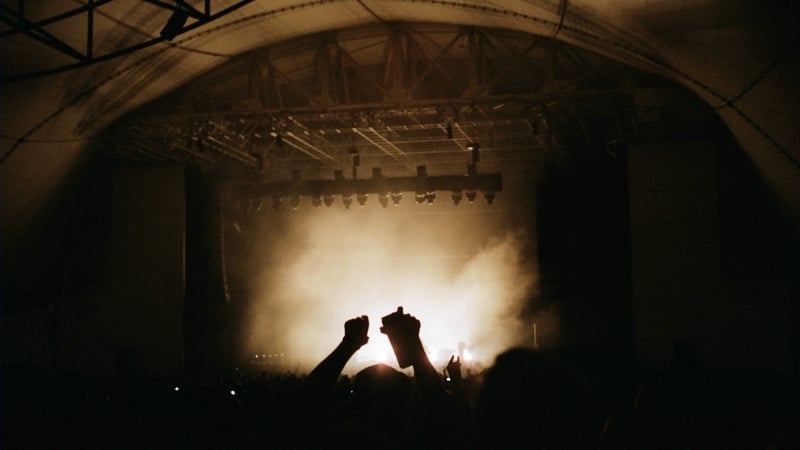 How to have your own Download Festival at home!
This weekend, thousands of rock fans will descend on Donington Park for 3 joyous days of rock and metal from some of the world's biggest and best bands.
If you're one of the many unlucky enough not to be going (*raises hand, weeps quietly*), don't fret – you can still have your own mini-festival at home!
We've picked some of our favourite albums from artists playing this year's festival. Check them out, pump them loud and camp out in the living room for your very own Download experience. Mud, sweat and beer optional, but recommended.
---
Mutter – Rammstein
Everyone's favourite German industrial metal band are notorious for their live antics, which usually involve copious amounts of fire, crude props and flying keyboardists (who are occasionally set on fire too). Their headline set on Friday night should be quite literally explosive.
We definitely don't recommend shooting a flamethrower at home, but we do recommend blasting Mutter, Rammstein's 2000 classic which includes Sonne and Feuer Frei, at full blast while singing along at the top of your lungs. Give yourself extra points if you actually sing the words instead of gibberish which sounds a bit like German.
Buy Mutter by Rammstein on the musicMagpie Store
---
Paranoid – Black Sabbath
Given that they're currently on their final tour, Sabbath's performance on Saturday night could be their last ever appearance at a UK festival. It should be pretty special.
If you can't be there, you can at least console yourself by playing some of their best music as loud as possible. Choosing just one album is difficult, but we've opted for Paranoid because a) it has Paranoid, Iron Man and War Pigs on it and b) we really enjoy the trippier numbers like Planet Caravan too.
Buy Paranoid by Black Sabbath on the musicMagpie Store
---
The Book of Souls – Iron Maiden
Again, there were a lot of albums we could have chosen here but we've opted for Maiden's latest as their Download performance is part of The Book of Souls tour.
The Book of Souls is a brilliant Maiden album, with their trademark galloping riffs, soaring vocals and the three-pronged guitar attack sounding as good as it ever has – even after 40 years.
Recreating the live Iron Maiden experience is slightly difficult given how grand it usually is, although drinking some Trooper and pretending that every plane that flies over head is piloted by Bruce Dickinson usually helps.
Buy The Book of Souls by Iron Maiden on the musicMagpie Store
---
Follow The Leader – Korn
Although they've always been popular, Korn have had something of a renaissance recently thanks to their brilliant live shows, a grown up audience who still want to party like its 1998 and new fans who've got into them thanks to the bands they've influenced.
Their performance on Friday is guaranteed to be great fun, although you can always get your funky on at home with this classic album, which features bona-fide Kerrang! TV classics like Freak on a Leash and Got the Life. Chuck on a sparkly Adidas tracksuit for the full nu metal experience.
Buy Follow the Leader by Korn on the musicMagpie Store
---
Gore – Deftones
It's not often that a band releases one of their best albums 28 years into their career, but we suppose Deftones aren't an ordinary band. Always standing out from their peers in the 90s metal scene thanks to their combination of crushing technical riffs and dreamlike choruses, they've become one of metal's biggest and most beloved bands.
Gore upholds their reputation for experimentation, taking more than a little influence from Chino Moreno's alt-rock side project Team Sleep, while maintaining plenty of mosh-worthy riffs too. They should be one of Download's highlights, and therefore one of your faux-Download highlights!
Buy Gore by Deftones on the musicMagpie Store
---
Metal Resistance – Babymetal
Imagine Metallica performing the soundtrack to an anime cartoon and you've more or less got Babymetal – although even that doesn't do their insane but brilliant sound justice.
They're basically a Japanese girl band backed by a bona-fide death metal band, mixing the riffs and breakdowns of metal with some of the catchiest choruses known to man. They've caused a real stir in the metal scene, with their live performances getting particular praise. They could well be the highlight of this year's festival!
Buy Metal Resistance by Babymetal on the musicMagpie Store
---
From Mars to Sirius – Gojira
With a new album due out in a couple of weeks, 2016 could be the year French extremists Gojira finally break into the mainstream. It'd be about time too; metal fans have been enjoying their heavy riffs and environmentally-influenced lyrics for years.
From Mars to Sirius is the band's second album and arguably their best. It's rammed full of unforgettable riffs that are impossible not to get carried away to. We defy you not to get carried away when Backbone comes on – just make sure you move the furniture before you start a one-man circle pit.
Buy From Mars to Sirius by Gojira on the musicMagpie Store
---
Disgusting – Beartooth
Beartooth are one of the hottest bands in rock at the moment, riding a wave of hype that has taken them all the way to Download's main stage on Saturday.
Fronted by ex-Attack Attack! vocalist Caleb Shomo, Beartooth play metalcore in the same vein as bands like August Burns Red and A Day to Remember. That means melodic riffs, brutal breakdowns and big, big choruses – perfect for a festival!
Buy Disgusting by Beartooth on the musicMagpie Store
---
Punk in Drublic – NOFX
Punk legends NOFX are headlining the second stage on Saturday and it's pretty much guaranteed to be awesome.
Punk In Drublic is NOFX's highest selling album and is generally considered to be one of the best pop punk albums ever made. It's full of big hooks and catchy choruses, with a healthy dollop of humour for good measure.
Buy Punk in Drublic by NOFX on the musicMagpie Store
---
ANThology – Alien Ant Farm
Remember Alien Ant Farm? That band who did the Smooth Criminal cover?
They're back! Yep, 2016 is the beginning of the great AAF renaissance, with a Friday slot on the main stage a big step forward.
It's the perfect excuse to dig out their debut, which is jam-packed with bangers. From hits Movies and Smooth Criminal to lesser known-tracks like Wish and Attitude, ANThology is a brilliant rock album.
Buy ANThology by Alien Ant Farm on the musicMagpie Store
---
You can find thousands more cheap CDs and Vinyl albums, including music from artists at this year's Download, on the musicMagpie Store! Prices start from just £1.19 and you'll get FREE delivery on all orders – click below to check it out.