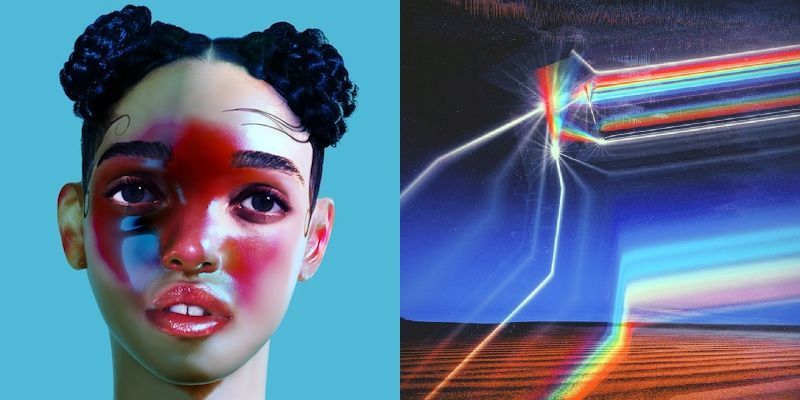 The best vinyl artwork of the past 5 years
Vinyl is well and truly back. Over 3 million records were sold in 2016, a 25 year high.
There are plenty of reasons for vinyl's big comeback: the sound quality, the collectible nature of records, the limited edition releases. And then there's the artwork.
Buying vinyl allows music lovers to fully appreciate the intricacies and detail of album covers, which were slightly neglected during the iTunes era. It also allows artists to experiment with different packaging, leading to all kinds of weird and wonderful vinyl sets over the past few years.
Here are my favourite vinyl covers of the past 5 years. Share yours in the comments!
---
11. Bloom – Beach House

Legrand and Scally of alternative band Beach House design all of their album artwork themselves, but have been praised most highly for these limited edition vinyl copies of their 2012 album Bloom.
The cover is simple but pleasing and much more detailed than it first appears. The contrast of black and white is made even more impactful by the lights in the image, which glow in the dark.
---
10. Syro – Aphex Twin

The cover art for Aphex Twin's 2014 album doesn't look like much at first, but it's actually a list of the bills for the album's production and promotion: "from courier charges to photoshoot expenses, expressed per disc and tailored for both vinyl and CD versions."
At the time, it was accompanied by a bizarre press release that promoted the "Triple vinyl, CD and digital formats…Bleep a very limited vinyl version you can register your interest in buying."
Buy Syro by Aphex Twin on the musicMagpie Store
---
9. Gloss Drop – Battles
In an interview with NME, Battles' bassist Dave Konokpa described this cover art as "a big blob of nothing," However, he went on to explain the thought process and chemistry behind producing the colourful madness: "I wanted to represent a solid document that would be the album, that is a controlled atmosphere and have something that is completely organic that you can't even control the way things are going to happen."
Featuring this vinyl art on the list is cheating a little bit, as the original album was actually released in 2011. But, from February to April 2012, Battles released a series of four 12″ vinyl versions titled Dross Glop 1 through 4, with variations of this same artwork.
Buy Gloss Drop by Battles on the musicMagpie Store
---
8. Blackstar – David Bowie
Released in 2016, Blackstar was the late David Bowie's final album.
The artwork flawlessly celebrates Bowie's  other-worldly persona, as it has been discovered that Jonathan Barnbrook's design of the vinyl sleeve incorporates secret features that are only revealed over time. For example, if you hold the vinyl art to a bright light, it reveals the impression of a galaxy befitting of the 'Starman' and his legacy. Barnbrook even confessed to BBC Radio 6 that there's "one big thing which people haven't discovered yet… Let's just say, if people find it, they find it, and if they don't, they don't".
Buy Blackstar by David Bowie on the musicMagpie Store
---
7. Everything You've Come to Expect – The Last Shadow Puppets
Illustrator Matthew Cooper conceived this award-winning vinyl cover design for The Last Shadow Puppets' second album Everything You've Come to Expect. It features the legendary Tina Turner shot in New York, 1969, by Vogue photographer Jack Robinson.
When asked about this bold and iconic photo, Cooper explained that: "The idea was to move the artwork on from the 60s feel of the first The Last Shadow Puppets album artwork, so here is Tina on the very cusp of the 1970s. Originally shot in Black and white, the tint was added to create an identifiable colour scheme and a warmer, more contemporary feel".
For a groovy album full of certified jams, such as Bad Habits and Aviation, this is unquestionably perfect artwork.
Buy Everything You've Come to Expect by The Last Shadow Puppets on the musicMagpie Store
---
6. Amnesty (I) – Crystal Castles
Amnesty (I), is the first Crystal Castles album since the uncomfortable departure of vocalist Alice Glass, who attributed the split to both "personal and professional reasons".
Producer and co-founder of Crystal Castles Ethan Kath didn't hold back from commenting on Glass' decision, claiming the project was really his all along. And so, could this gorgeous gothic shot of several nearly identical girls imply Kath's feeling that Alice was easy to replace?
Buy Amnesty (I) by Crystal Castles on the musicMagpie Store
---
5. Mirage – Digitalism
Mirage came out in May 2016 and is the third studio album by German music duo Digitalism. The band have stayed pretty under-the-radar, but their sound is often compared to the likes of M83 and LCD Soundsystem.
The thought process behind this ambiguous artwork has never been explained by the musicians, but it is undeniably aesthetically pleasing. Art is all interpretation anyway, right?
Buy Mirage by Digitalism on the musicMagpie Store
---
4. …Like Clockwork – Queens of the Stone Age
This cover art for this album was designed by Boneface, an underground artist from Liverpool. The artwork isn't as grotesque as the rest of his work, but the dark characters still hit you with a deep menacing feeling.
The drawing was in fact based on a publicity still for the 1931 film Dracula, and was designed to convey the overwhelming process of making music. When asked about the design, Boneface explained that "the title of the album; …Like Clockwork is ironic, as the recording of the album went anything but, so the idea behind the artwork is an extension of this".
Buy …Like Clockwork by Queens of the Stone Age on the musicMagpie Store
---
3. LP1 – FKA twigs
FKA twigs is hands-down one of the most visually unique and fascinating new artists of the decade with hypnotic and powerful music and an ethereal stage presence to match.
Her cover for first album LP1 generated an instant buzz, as it explores Twigs' own face, but distorted and 'doll-ified'. This beautifully mirrors the distorted  and 'unnatural' elements in her music, that defies any convention of genre. The artist behind the image, Jesse Kanda, is known for this 'warped reality' style, and has previously worked with the likes of Bjork and Arca.
Buy LP1 by FKA twigs on the musicMagpie Store
---
2. AM – Arctic Monkeys
The Monkey's minimalistic cover for their 2013 album AM may have been simple, but it was effective and quickly became an iconic logo synonymous with the band.
It's meaning is still up for debate however. Some argue that it represents a concept in physics called "amplitude modulation" (AM) mainly used in radio broadcasting, as the waves produced carry sound. Others believe that it is the visualisation of a pulse-line to mimic the thick bass line that underpins much of the album.  
Buy AM by Arctic Monkeys on the musicMagpie Store
---
1. Co-Exist and I See You – The XX
Who could choose between these two ultra-aesthetic and instantly identifiable XX albums, that share the top spot on this list? Both albums perfectly flaunt the artistry in the revival of vinyl production over the last five years, as Coexist was released in 2012 and I See You only a few weeks ago.
Stylistically, but also musically, Jamie, Oliver and Romy excel year upon year, and their progression from the indie-pop style of their self-titled debut album has proven a successful experiment. Their simplistic 'X' motif is a constant feature on every XX album, but is embossed on a silver reflective vinyl sleeve for I See You, to capture the album's narrative of "seeing and being seen".
If you are intrigued by this minimal but magical artwork but haven't yet experienced The XX sound, I have to recommend giving VCR and I Dare You a listen. They really are something else.
---
Whatever kind of music you're into, you can find 1000s of records on the musicMagpie Store right now! We're one of the cheapest places to buy vinyl, we have a great selection and you'll get FREE delivery with all orders too. Why wouldn't you?