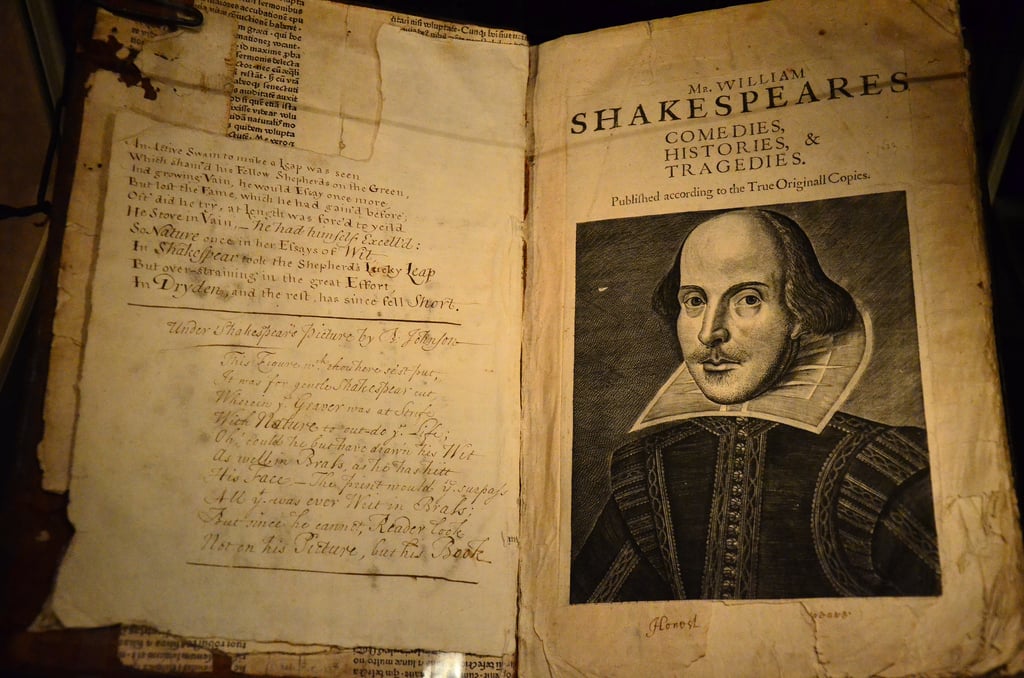 Why we'll always need Shakespeare
If you were to consider who the greatest writer in the English language was, would you pick William Shakespeare? Many would and even more than 400 years since his death, Shakespeare is as prominent in class rooms and lecture halls as ever.
We're all pretty aware of how important his texts have been when studying English, but are you aware of how Shakespeare has influenced some of our favourite songs or films? Even our day-to-day speech is sprinkled with Shakespearean language.
For starters, Shakespeare invented around 1,700 words – this includes words still used frequently today like 'tranquil' and 'assassination'. It's estimated that one in every 100 words we speak today were invented by William Shakespeare himself.
Aside from the singular words, there are terms and phrases still in circulation today. If you'd ever said something is "a foregone conclusion" or a "sorry sight", you've Shakespeare to thank for that.
Some of these phrases, taken from his works, have slotted into songs spanning across all kinds of genres. Morrissey's love of literature is well-known and he's taken inspiration from Shakespeare. The Smiths track You've Got Everything Now opens with the line "As merry as the days were long" which is a reference from the play Much Ado About Nothing.
Morrissey isn't the only one. The "pound of flesh" Courtney Love sings about on Hole's biggest hit Celebrity Skin can be traced back to The Merchant of Venice, as can the term "good riddance". It would go on to be used as the title of Green Day's track Good Riddance (Time of Your Life) that has been used for end-of-high school videos for 20 years.
Romeo and Juliet has had a huge impact on music, film and how we speak. A 'Romeo' is someone who is thought to be a persistent romancer. Singer Taylor Swift openly takes inspiration from the play in her track Love Story, with both characters named. West Side Story is also based on the play; the Jets and the Sharks represent the Montagues and Capulets, with Tony and Maria representing Romeo and Juliet respectively. The Montagues and Capulets also get named checked in Arctic Monkey's single I Bet You Look Good on the Dancefloor!
Fourteen years before Alex Turner sang about his favourite Shakespeare work (we imagine it's his favourite), West Coast rapper 2pac also quoted the Bard. Tupac Shakur's debut album, 2Pacalypse Now, features a song called Something Wicked which opens with the line "something wicked this way come". This is taken from Act 4, Scene 1 of Macbeth.
Aside from the wide range of film adaptations – many of which Kenneth Brannagh has had a hand in – plenty of beloved films are based on Shakespeare's work. Teen movie 10 Things I Hate About You starring Julia Stiles and Heath Ledger is based upon The Taming of the Shrew. Stiles portrays Kat, who is seen as the 'shrew' – her younger sister Bianca is not allowed to date unless Kat does too. Aside from the movie taking inspiration from the play, there are little clues that relay back to Shakespeare, too. Kat and Bianca's surname is Stratford, a nod to the Bard's homeplace; Patrick's surname is Verona, which is Petruchio's home and their high school is Padua, named after the play's setting.
John Madden's 1998 film Shakespeare in Love was pretty loosely based on William Shakespeare's life but there are strong references to Romeo and Juliet and Christopher Marlowe, Shakespeare's contemporary is portrayed in the film. Shakespeare in Love was immensely popular, earning more than 10 times its budget at the box office. It swept up at the Oscars too, taking home seven Academy Awards including Best Picture.
Disney's Pocahontas is also inspired by renowned Shakespeare play The Tempest. Yes, it's inspired by the Native American princess, but the Hollywood story has taken notes from Shakespeare. In The Tempest, war breaks out when travellers land on an island and cannot understand the current inhabitants, with a love story thrown into the mix. The Shakespearean version is much more fitting for a Disney Princess classic than the historical background.
When it comes to TV, one of the strongest links between Shakespeare and modern television is House of Cards. Kevin Spacey, who starred as corrupt politician Frank Underwood, has openly said his character would not exist were it not for Richard III. Both leads are manipulative and more than willing to undermine those around them. They are determined to be successful and powerful, which drives them to becoming violent. But we are compelled by both characters, who break the fourth wall, and are undoubtedly brilliant and intelligent.
William Shakespeare's influence is still very much felt to this day! Want to delve into these modern day, updated works? You can at musicMagpie Store – you'll receive FREE delivery on your order, too!